Colorado's Top-Rated Vape Products
Mar 9
How do you choose which of the many amazing cannabis vapes available in Colorado is the best? When there are several viable options to pick from, making a decision can be challenging. Let's discuss the most notable Colorado vaporizer manufacturers and their distinguishing characteristics.
Should You Utilize a Vape?
As expected, the vaping issue among cannabis fans is divided. Casual cannabis consumers view vaping as a cleaner, healthier, and more convenient option to other methods of consumption, however hard-core cannabis consumers generally disapprove. Regardless of your opinion on electronic cigarettes, you cannot deny their stratospheric surge in popularity in recent years, particularly among young people. Although there are some cannabis purists, the majority of cannabis smokers consider vaping an acceptable alternative.
When vaping-related health issues first revealed in 2018, they merely added to the sector's complexity. Although the lung ailments were mostly attributed to additives in low-quality vape brands, the media coverage cast a fresh cloud (forgive the pun) over vaping (many of the nicotine type, not cannabis).
All of the featured local producers of vape pens and carts utilize only food-grade materials. If you purchase something from this list, you can do so with the assurance that it is safe and of high quality. Without further ado, I list a number of Colorado's greatest electronic cigarette manufacturers:
710 Labs
In addition to its live resin pods, 710 Labs sells a variety of THC (tetrahydrocannabinol) products, including  butane hash oil (BHO) and solvent-free goods. Their components' purity is a source of pride for the company. By adhering to a particular technique for producing and extracting their concentrates, they assure that the finished product is entirely natural and free of synthetic chemicals.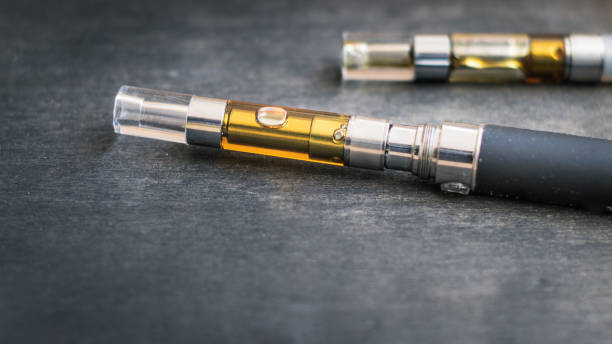 Green Dot
Although Colorado is home to a huge number of extraction companies, only a portion of these companies engage in cannabis growing. GreenDot Labs, a company founded in Boulder, produces vape cartridges of rare and uncommon strains that are high in terpenes and without fillers.
Dablogic
In the creation of Dablogic vape products, no harmful chemicals or solvents are employed. The water-ice-pressure extractor invented by Dablogic of Colorado produces some of the purest concentrates available. Many of Dablogic's competitors struggle to create cartridges of the same standard as their concentrates, whereas Dablogic's products are of better quality. This is undeniably a premium product, but it is well worth the price.
Lazercat
When it comes to promoting its vape products, Lazercat pulls no punches. People state, "They'll never be the same as a dab, but the convenience cannot be beaten."
Due to the high potency of the solvent-free rosin composition, concentrate enthusiasts may get more for their money with this premium alternative, and regular dabbers will get a more powerful and fulfilling impact than with most other cartridges.
Evolab
Evolab, one of the state's oldest vape businesses, sells anything from disposable hash pens with fruity scents to Delta-8 THC cartridges, which are claimed to have a lower euphoric effect. The Evolab Chroma cartridge is manufactured by Evolab and contains solely cannabis terpenes and pure cannabis oil. It is available in a variety of THC-to-CBD ratios, as well as in pure THC and CBD forms.
Natty Rems
The founders of Natty Rems are the same individuals responsible for the successful operation of Natural Remedies in Denver's central business area. There are no fillers in these cartridges.
As cannabis use expands, particularly among young people, heated competition has emerged in the vape industry. These e-cigarette producers are among the most well-known and esteemed in Colorado. Each of these businesses takes great care to include extracts and ingredients that are both safe and delicious in their goods. 
If you're interested to know more about this topic, feel free to check this blog post from Helping Hands Cannabis.